It is no secret that with 3 boys, 4 and under, that hand me downs will be worn. Every time I see Eli in an outfit that Max/Crocker have worn a sense of nostalgia hits me. I can usually remember who wore it and when they worn it.
But no shirt/outfit holds a candle to one shirt in particular. Eli wore it the other day.
Crocker wore it 1.5 years ago.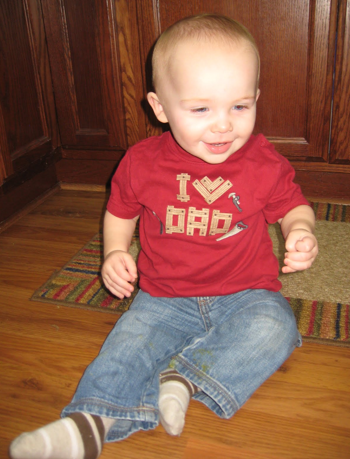 When I got it out of the closet and put it on him, my heart started beating fast, I had a lump in my throat, and I started crying.
To some it is just a shirt, but to me it represents so so much more. It represents prayers answered, 15 months gone by, and a sense of relief.
Max wore the simple red shirt when Sheldon flew in from spending 15 months in Iraq. He was 9 months old when he was able to start his life with his daddy.
I know I will see that shirt a few more times on Eli before we have to retire it and I am sure I will be emotional every time I see it.
Side Note- The shirt is a 12-18 months. Eli is 7 months in his picture, Crocker is 15 months, and Max is 9 months.